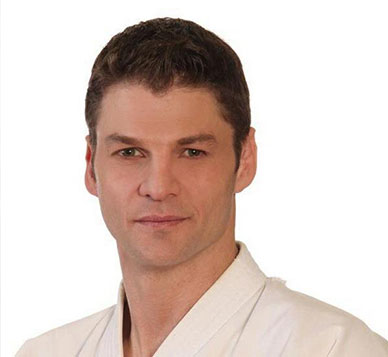 FCRad (Diag) SA, MMed Rad D(Wits),  MBBCh (Wits) (Cum laude), MBA (Wits) (Cum laude)
8-time World Karate Champion
7th Dan
Assistant Chief Instructor Karatenomichi South Africa
Member of the Supreme Master Panel – Karatenomichi World Federation
Director - Budo Karate international
Japanese Graded 'A'-Class Instructor, Examiner and Referee
Shane Dorfman Sensei is the 7-time open KWF world karate champion, former World Shotokan Karate Association (WSKA) open fighting champion, former World Karate Federation (WKF) All Africa and junior world grand champion. Shane is a former Protea team captain, and was senior South African All-Style champion for 8 consecutive years, before retiring undefeated. Shane Sensei is the youngest ever 7th Dan in a mainstream Japanese karate organisation and is one of only 13 people worldwide to sit on the Karatenomichi World Federation Supreme Master Panel. He is the assistant chief instructor of Karatenomichi South Africa, a leading Japanese style organisation and together with his father, Malcolm Dorfman, 9th dan, runs the Dorfman Karate schools in Norwood, Melrose (Birnam) and Parktown North.
Dr. Shane Dorfman graduated cum laude from Wits Medical School in 1998 and later went on to specialise in radiology, becoming a Fellow of the College of Radiologists of South Africa and attaining a Masters of Medicine (Diagnostic Radiology). Shane also graduated with an MBA cum laude from Wits Business School in 2004, where he received a distinction for his research report on "Public Private Partnerships in the Healthcare sector". Shane has also completed the Global Health Leadership Programme through the University of California, Berkeley and Barcelona Graduate School of Economics in 2010.
On the clinical front, Dr. Dorfman is radiologist in private practice where his special interest field is chest radiology. While in state practice, he was the primary radiologist responsible for consulting to the pulmonology and intensive care units of Charlotte Maxeke Johannesburg Academic Hospital as well as Helen Joseph Hospital and has recently been appointed Chief Radiologist of the 'Pulmonology Centre of Excellence', a Public-Private entity devoted to lung cancer research.
Shane has acted as a consultant to many public and private sector healthcare entities and held a number of senior management and executive positions on the business side of healthcare. He has also served on the boards of various healthcare companies both in an executive as well as non-executive capacity.
Shane has acted as a part-time lecturer at Wits Business School and consults to an array of local and multinational corporates in his specialist area of Performance Optimisation and Leadership Fitness & Wellness where he amalgamates his knowledge bases of health and wellness, martial arts and cutting-edge business theory. Shane also has a number of other corporate products including self-defence and team building.
SUMMARISED
KARATE ACHIEVEMENTS
INTERNATIONAL
Awarded 7th degree black belt in 2015 by Yahara Sensei and the Supreme Master Panel of Karatenomichi World Federation (KWF) at age 40, making Shane the youngest ever 7th Dan in a mainline Japanese style organisation in the world, including the Japanese
Appointed to the Supreme Master Panel of the Karatenomichi World Federation (KWF) in 2015 (only 7th Dan and above are eligible)
Triple KWF World Open Grand Champion (winner of both Kata and Kumite): 2007 (Tokyo, Japan), 2004 (Tokyo, Japan) and 2002 (Miami, USA)
All-Shotokan World Open Kumite Champion 2005 (Chicago, USA)
Elected to the KWF International Shihankai (Master Panel) in 2007
Awarded 6th degree black belt in 2004 by Yahara Sensei and the international grading panel of KWF at age 29, making Shane the youngest 6th dan in a mainline JKA-style Shotokan organisation in the world, including the Japanese
Karatenomichi (KWF) Japan Open Kumite Champion 2001 (Chitose, Hokkaido, Japan)
JKA World Kata Champion 2000 (Wales)
World All-style (WKF) World U19 Grand Champion 1993 (Hungary)
World All-style (WKF) World U21 Kata Champion 1994 (Australia)
Captain of the KWF World Team Champions 2000 and JKA World Team champions 1996
World Maccabi Grand Champion 1997 (Israel)
World Maccabi Kata Champion and Open Kumite runner-up 1993 (Israel)
African Cup (UFAK) U78kg Kumite Champion 1994
NATIONAL
Karatenomichi (KWF) S.A. Open Grand Champion (winner of both Kata and Kumite) 2002- 2004
Karatenomichi (KWF) S.A. Open Champion (winner of Kata) August 2001
JKA S.A. Open Grand Champion (winner of both Kata and Kumite) 1993 to 1999 inclusive
S.A. All-styles (KASA) Grand Champion five times in seven years. Shane is the only male to have ever achieved the 'grand slam' (i.e. both JKA and All-styles Grand Champion in the same year)
Member of the official National Squad from 1993 to 2002, where Shane was the number one male choice for South Africa in both Kata and Kumite
OTHER
Sports Heroes Walk Against AIDS, Johannesburg - Cape Town, Charity Event (2002)
Awarded full blue 'cum laude' by the University of the Witwatersrand in 1994 (1 of only 3 recipients of the estimated 40 000 students at Wits)
University of the Witwatersrand Sportsman of the Year 1994
Maccabi Senior Sportsman of the Year 2003/4
Maccabi Junior Sportsman of the Year 1990-1995
KARATE TRAINING
Trained under Malcolm Dorfman Sensei from the age of 6, 1981
Honbu dojo of the JKA in Japan, 1983, 1985, 1986, 1992, 1995. Instruction was given by the following Sensei: Tanaka, Osaka, Isaka, Yahara, Kagawa, Abe, Ueki. Trained with Nakayama Sensei 1983, 1985, 1986
Honbu Dojo of KWF in Japan 2004 and 2006 with Yahara and Isaka Sensei
San Diego with Nishiyama Sensei and Shirai Sensei 1987
Crystal Palace with Enoeda Sensei 1988
Milan with Shirai Sensei 1989
Tokyo with Yahara Sensei, Abe Sensei, Isaka Sensei regularly 1992 –2001
Appointed as official instructor for the KWF World Camp Miami, USA, 2002 and Norway 2009